Vaacha: Museum of Voice
Museumization of culture is not on the Academy's agenda. Vaacha functions more as a forum and a platform for expression of Adivasi creativity. It offers intellectual space for Adivasis interested in documenting social practices, and creating dynamic displays of Adivasi expressions, both artistic and cultural, in the form of objects, artefacts, performances and digitized multimedia images. Vaacha is a 'laboratory' for contemporary ethnic, anthropological and artistic studies carried out from the perspective of Adivasis themselves and has evolved as the largest resource centre of Adivasi Culture in India.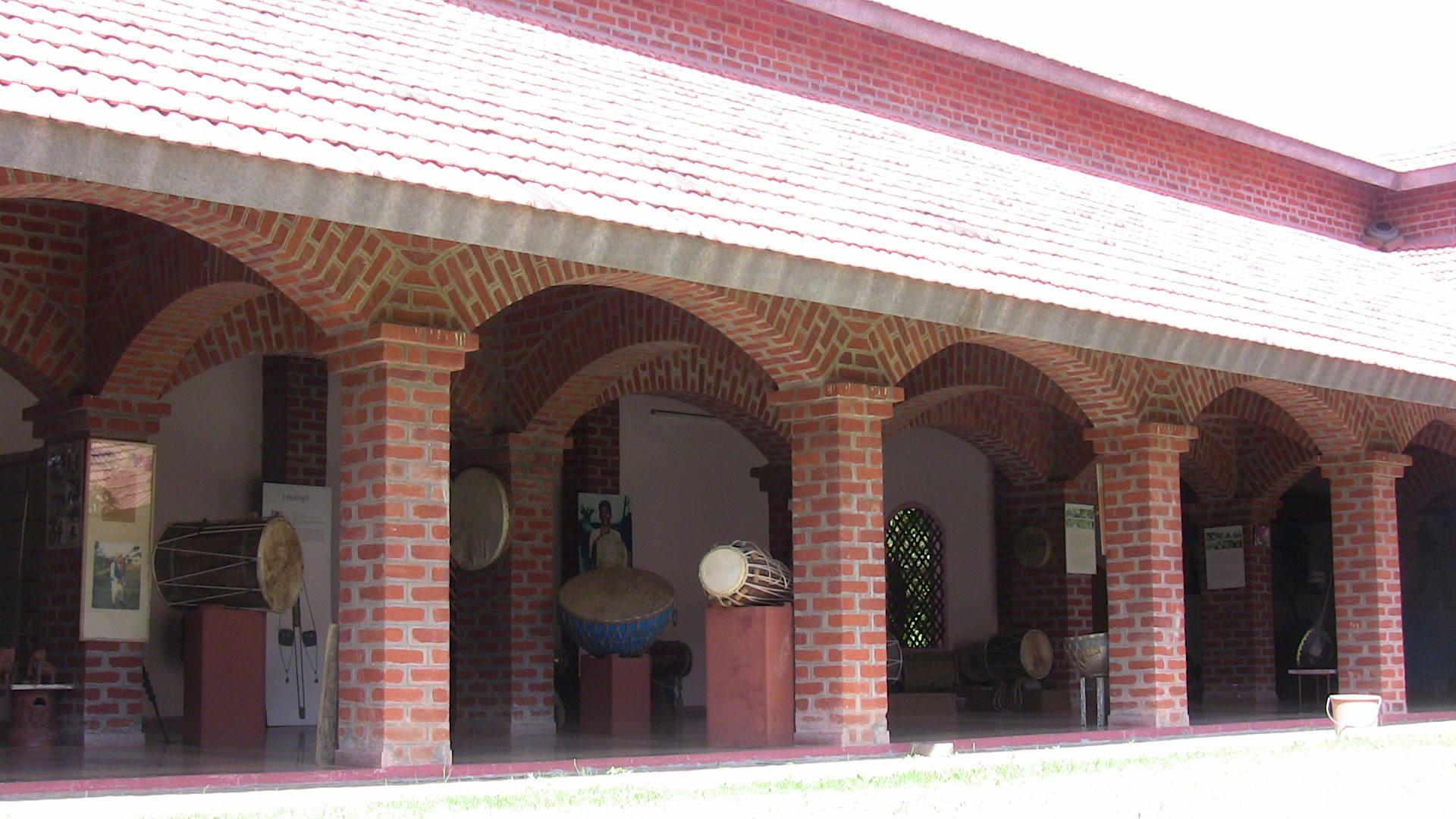 Collection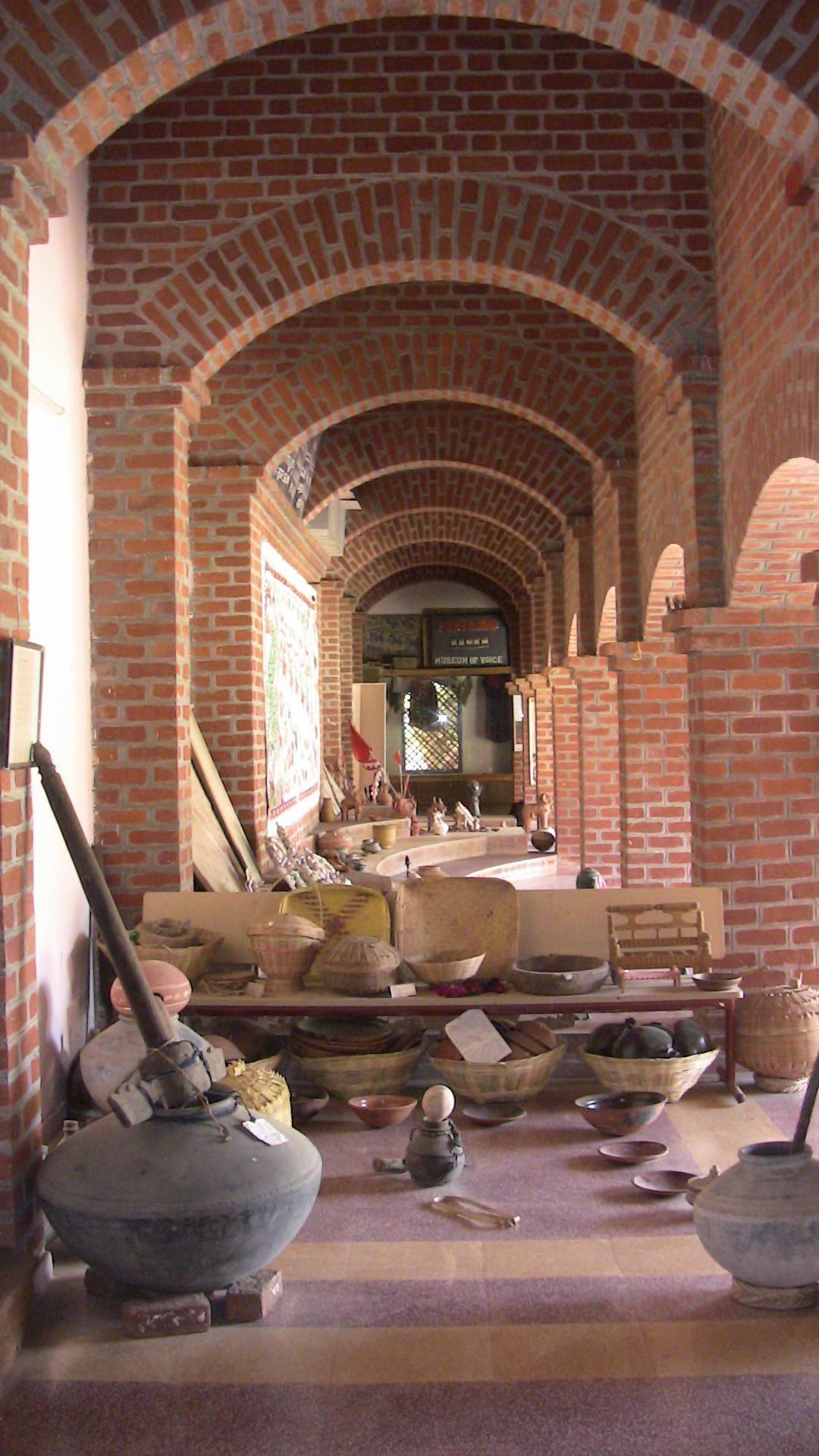 Unlike most museums, the Vaacha Museum is an open rather than a closed space, with windows and courtyards opening out to the landscape around and the sky above. The Museum Gallery has on display a diverse collection that includes paintings, sculpture, pottery, bamboo items, stone work, ornaments, agricultural equipments, textiles, musical instruments, storage vessels, hero stones and images of worship sourced from diverse Adivasi communities across several states of the country.
Vaacha has used technology to collate the collections of other Tribal Museums in India. On the touch of a finger, visitors can have a panoramic view of the collections of the museums of the Tribal Research and Training Institutes in the country. Prepared with the support of the Ministry of Tribal Affairs, Govt. of India, this 'National Consortium of Tribal Arts' is a visual delight and lends insight into the rich cultural diversity among the Adivasi communities.
Lakhara Studio
The Lakhara Studio at the Adivasi Academy is a space for artists to come and practise their art/craft, experiment with form and design, meet other artists as well as train their next generation. An extension of the Vaacha museum which digitizes and presents Adivasi arts to visitors, the studio space is meant for artists for the revitalisation and exchange of their traditional practices. The artworks produced at Lakhara are displayed at Vaacha; other are sold to visitors with a major part of the sale proceeds going back to the artist.
Kala Kasab
The Vaacha Museum has a craft outlet by the name Kala Kasab, which has on display and sale art works by Adivasi Artists. The purpose of the outlet is to support local artisans financially and save their languishing crafts. Products like Rathwa bead jewellery, terracotta works, wood carvings, masks, bamboo basketry, Kasota (loin cloth), tribals paintings and publications are sold at the shop. The shop has also begun to start to sell natural dyes, organic grains and ingredients of Adivasi cuisine.
Bhasha Van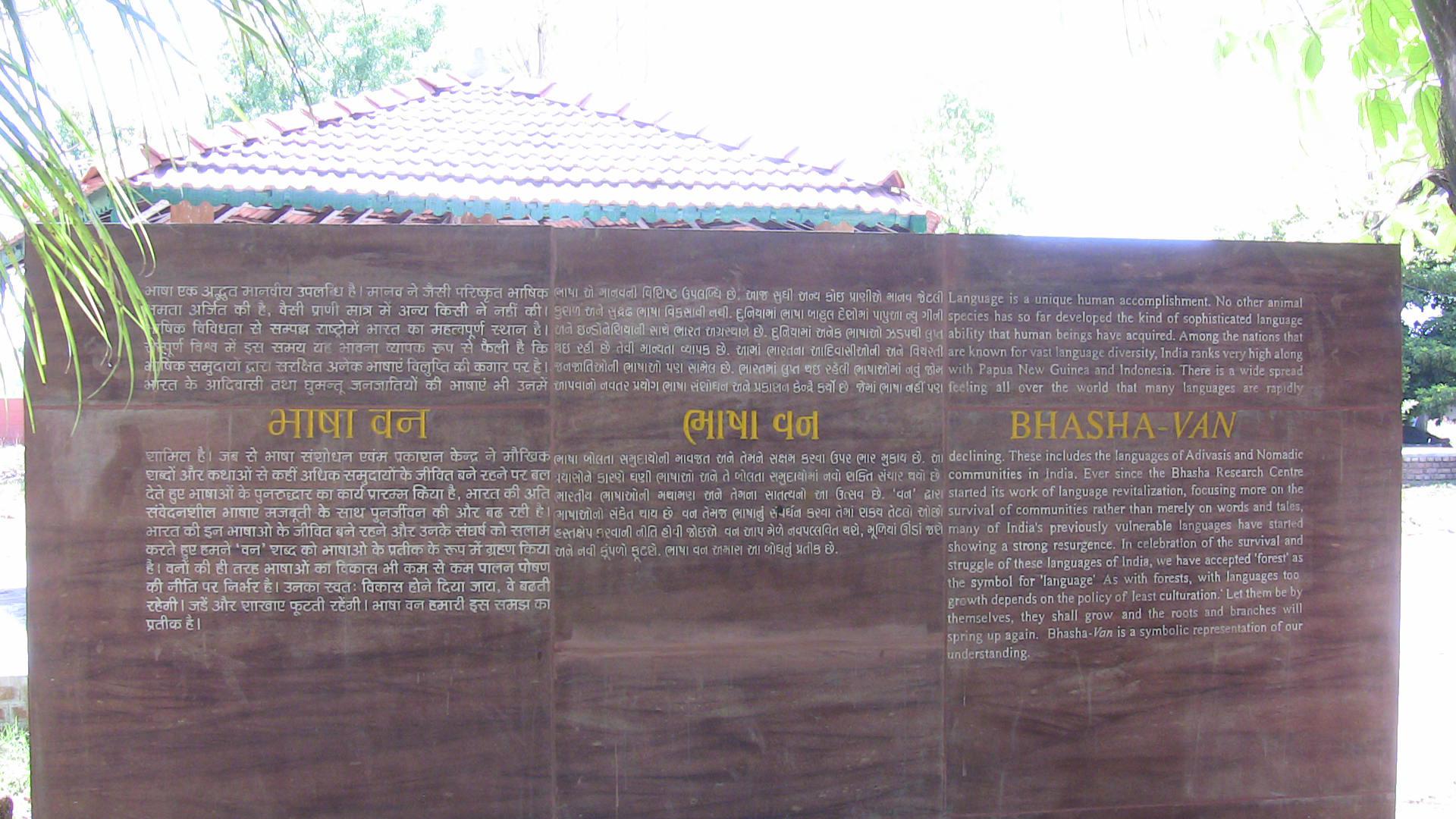 An outdoor extension of the Vaacha Museum is Bhasha Van, literally meaning 'a forest of languages' and created to provide a real-time experience of India's linguistic diversity. The idea of Bhasha Van emerged from The Peoples Linguistic Survey of India, a nationwide survey on existing languages carried by Bhasha Centre across India, to seek answer to the question 'How many living languages does India have?' The survey, being published in 50 volumes, presents 780 living Indian languages.
Still in the making, Bhasha Van is envisioned as a metaphorical forest, representative of both the diversity of flora and languages of our country. Since language is oral before it is written, Bhasha Van takes the visitor through the physical area of the Van while moving aurally through the tales of its linguistic traditions.
As visitors wander through the walkway of trees, they are provided with audio guides/tablets containing conversations, stories, songs, tales, music and jokes in the languages they choose. Some of these trees are hung with plaques on which tri-lingual information about little known languages are presented. Soon, visitors will be able to read and hear these on their cellphones.
There are rest-stops designed within the Van space to allow visitors to rest their feet and engage with interactive displays on language families, Scheduled Languages, Non-Scheduled languages and even contribute narratives in their own mother tongues.
Folk art, in the form of paintings, pottery and wood work installed at various locations forms an integral part of this the Van. Located outside the the Vaacha Museum of Voice, Bhasha Van as a thriving forest of linguistic diversity complements the diversity of living traditions and material cultures housed within the Museum building.
Presently, there are 80 recordings available to visitors; more language recordings bearing information on languages, their songs, tales, music and jokes are being added gradually.