Healthcare at Adivasi Academy
Learn about Prakruti and Ayurved healthcare centres at Adivasi Academy
Prakruti
The Adivasi Academy stepped into the area of tribal health in the year 2001 with the aim of studying and addressing the incidence of sickle-cell anaemia among the tribal community in Chhotaudepur district. In the process, the team's attention was drawn to other health care problems among the village communities. Bhasha Centre thus set up the Prakriti Health Centre on its campus at the Adivasi Academy.
Prakriti is active in the Chhotaudepur district of Gujarat, with patients coming in even from the neighbouring villages of Madhya Pradesh. Prakriti has a fully established clinic with all basic amenities. The Centre has its own ambulance donated by Mahindra and Mahindra which is utilised for extending health services in remote rural areas and a basic laboratory. The centre remains obtains generic, rational drugs at subsidised rates from Low Cost Standard Therapeutics. PrakritiOPDs on Sundays are led by Dr. Kiran N. Shinglot and Dr. Jayshree Rao.
The Centre focuses on providing qualitative and sustained health care aid to the tribal/rural population in the area. It covers both preventive and curative health. The Centre carries out health surveys, provides treatment to patients visiting the clinic, organizes health camps in villages, conducts health awareness campaigns, carries out grassroots sensitization programmes and builds community capacity to promote well-being.
AYUSH Ayurved Intervention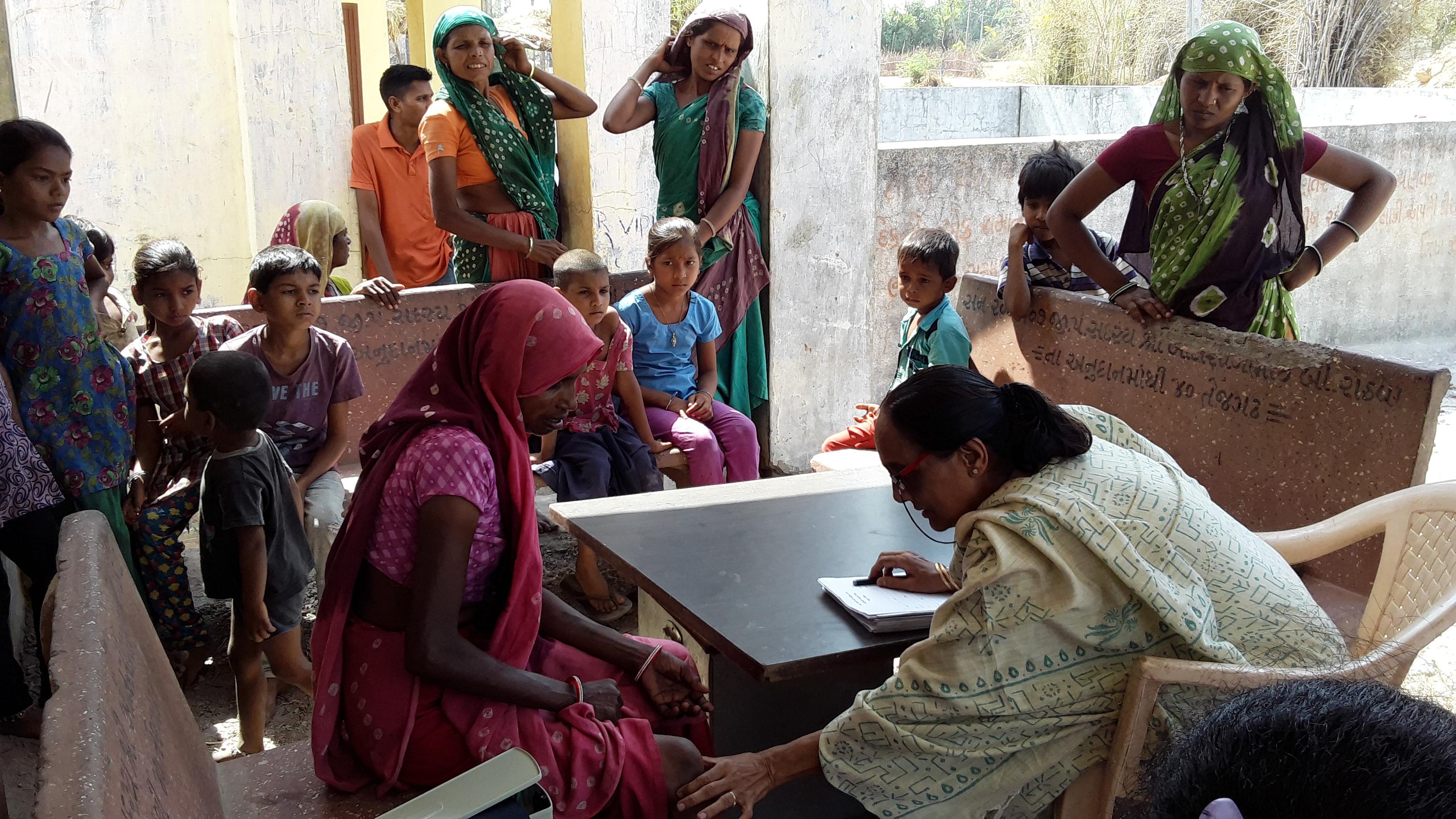 In October 2015, Bhasha was invited by the Ministry of AYUSH, Government of India, to do a pilot project on Ayurved intervention in the Chhotaudepur district. In this project, Bhasha aimed to propagate Ayurveda along with the Adivasis' traditional plant based medicinal practices as a strategy for health care management.
The project aimed to spread awareness of Ayurved among the Adivasi/rural residents and improve their health status.
Under the project, the Adivasi Academy started an Ayurved centre at its campus.
For Bhasha Centre, Ayush and Prakriti are not parallel systems; the endeavour is that the two approaches complement each other. The doctors decide whether the patient's complaint would be more amenable to allopathic or ayurvedic; the patients' too have the choice to decide which system of medicine they wish to opt for.
During the duration of the project, Bhasha held health cum awareness camps in the villages of Chhotaudepur to reach out to areas having limited access to healthcare and ran Ayush OPD (supported by a pathological laboratory) on its campus at Tejgadh. Bhasha further conducted workshops with government school teachers in the district and oriented them on the role of ayurved in daily health and well-being. This has led to some of the teachers planting herbal plants in their school garden.
As part of the project Bhasha held joint workshops with traditional tribal healers and ayurved practitioners to develop exchange of knowledge and practices between them. These practices are being documented for publication.
The Adivasi Academy has created a herbal garden as a demonstration plot on its campus for visitors to acquaint themselves with the richness of ayurveda and the medicinal significance of local plants and trees.