Library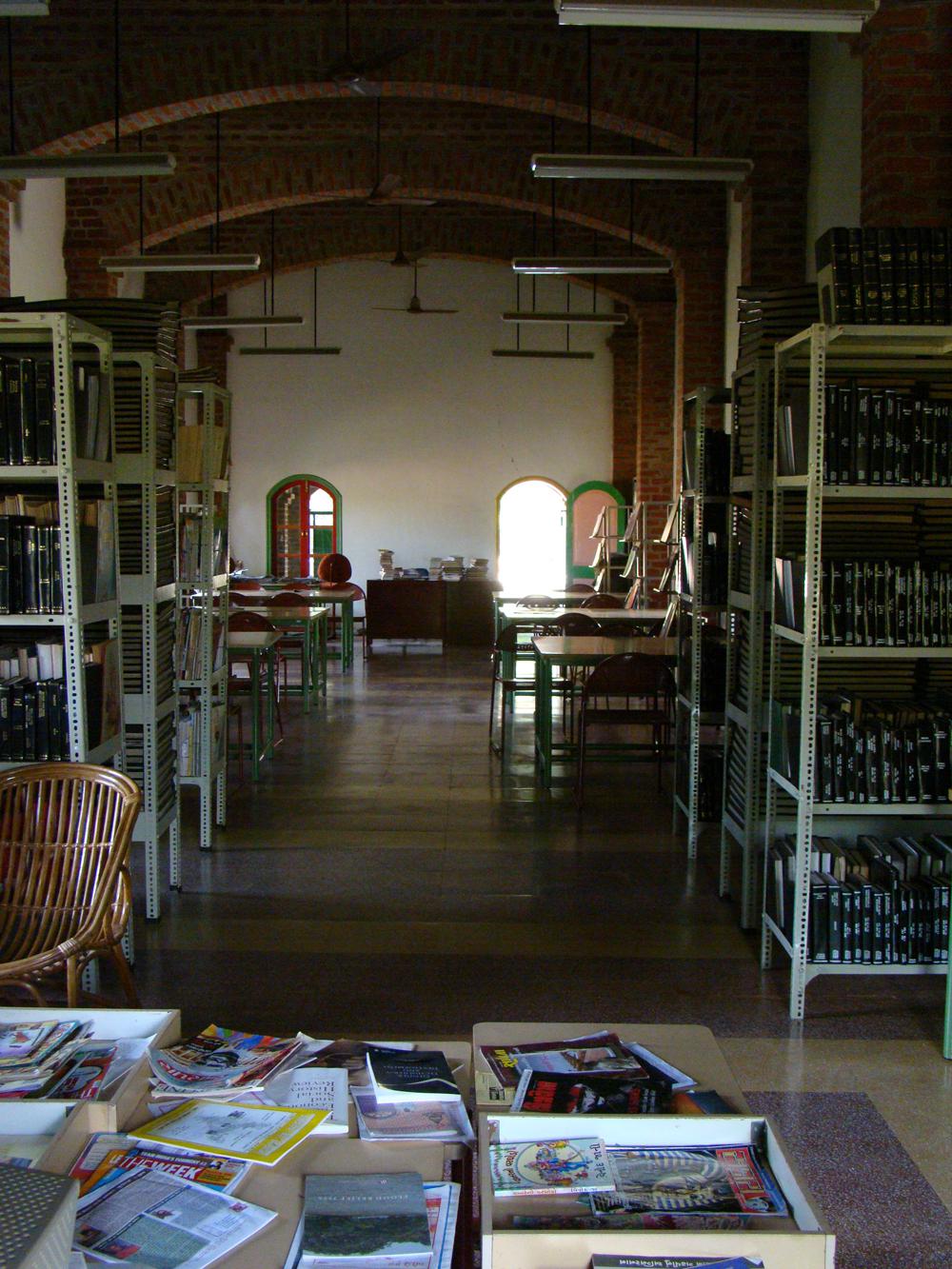 Holding print and audio-visual resource on tribal societies, endangered languages and related sociological issues, the Academy's Library has at present 157 academic journals and 47,937 titles. The library has in its collection local newspapers since 2004.
Specializing in Tribal Studies, the Academy's Library is extremely useful to Indian and overseas scholars, doctoral and post doctoral students, college and school teachers. The areas covered are Adivasi literature, language studies, development, culture studies, ecology, social sciences, gender studies education, development and law. The Library has been enriched with the personal collections of writers, scholars and artists as Smt. Mahasweta Devi, Prof. G. N. Devy, Ms Vidya Rao, Prof. Lachman Khubchandani, Dr. Haridev Sharma, Ms Sharada Naik, Prof. Gregory Alles and other friends who have donated their wonderful collections for wider readership. The Academy has a special collection received from the Nehru Memorial and Museum Library of now out-of-print books. The library also has a section for general readers and children in the vicinity.
The quiet environ of the Adivasi Academy is an ideal place for scholars for reading and reflection. The Library offers annual membership to local residents and has facility for short-term and daily membership for visiting scholars.
Mother Tongue-Multilingual Education
In the early 2000s, Bhasha ran non-formal centres in tribal villages for re-integrating out-of-school children to government schools after bridging their learning gaps. This experience revealed that the primary reason for Adivasi drop-outs in schools is their gap in the home language and the school language. Most Adivasi communities have their own indigenous languages; the teaching-learning process in school being in the state's official language, the children lose interest and leave school.
In 2005, Bhasha started 'Vasantshala: Mother Tongue and Multilingual Centre' at the Adivasi Academy under a group of five para-teachers from the Adivasi communities. The centre brought together 60 children of migrant parents and after assessment of their learning gaps, began a process to bring them to age appropriate learning levels. The process was led by a group of five para-teachers belonging to Adivasi communities. The teachers gradually evolved a pedagogy for teaching and evaluation and began preparing contextually relevant multi-lingual methods and tools. The intiative has resulted in a full-fledged Mother-Tongue and Multilingual Teaching-Learning for Primary Learners in the age group of 6 to 15 years. The centre successfully transitions children from their mother-tongues mainly to Gujarati, Hindi, and English.
Each child stays at Vasantshala for a year to two years, depending on the learning gap and the child's own ability. Children at Vasantshala have the freedom to speak in any language both, inside and outside the classroom. Along with the government's textbook curriculum, the teachers have added local songs, stories, arts and craft, ecology etc. to make the curriculum content appealing for the children. Sports and local games are a part of their daily regime, so is gardening and keeping their premises clean. The children have access to the Vaacha museum and the library where they can give wings to their imagination and creativity.
To initiate them into leadership, decision-making and issues of equity and justice, the children have their own Bal Panchayat to resolve their conflicts.
Each academic year beginning June, Vasantshala admits some children to the government schools and enrolls new ones to the centre. The alumni of Vasantshala regularly come to meet their teachers and keep their links with the centre alive. Vasantshala is a home away from home for these children.
So far, more than 500 children have been successfully transitioned to the government schools.
During 2017-18, Bhasha hadAIF Clinton Fellow, Ms. Lina J. Khan who assessed the efficacy of the multilingual programme and suggested ways to replicate and upscale it.