Arts and Culture
Find about arts and culture of Adivasis
Promotion of Traditional Arts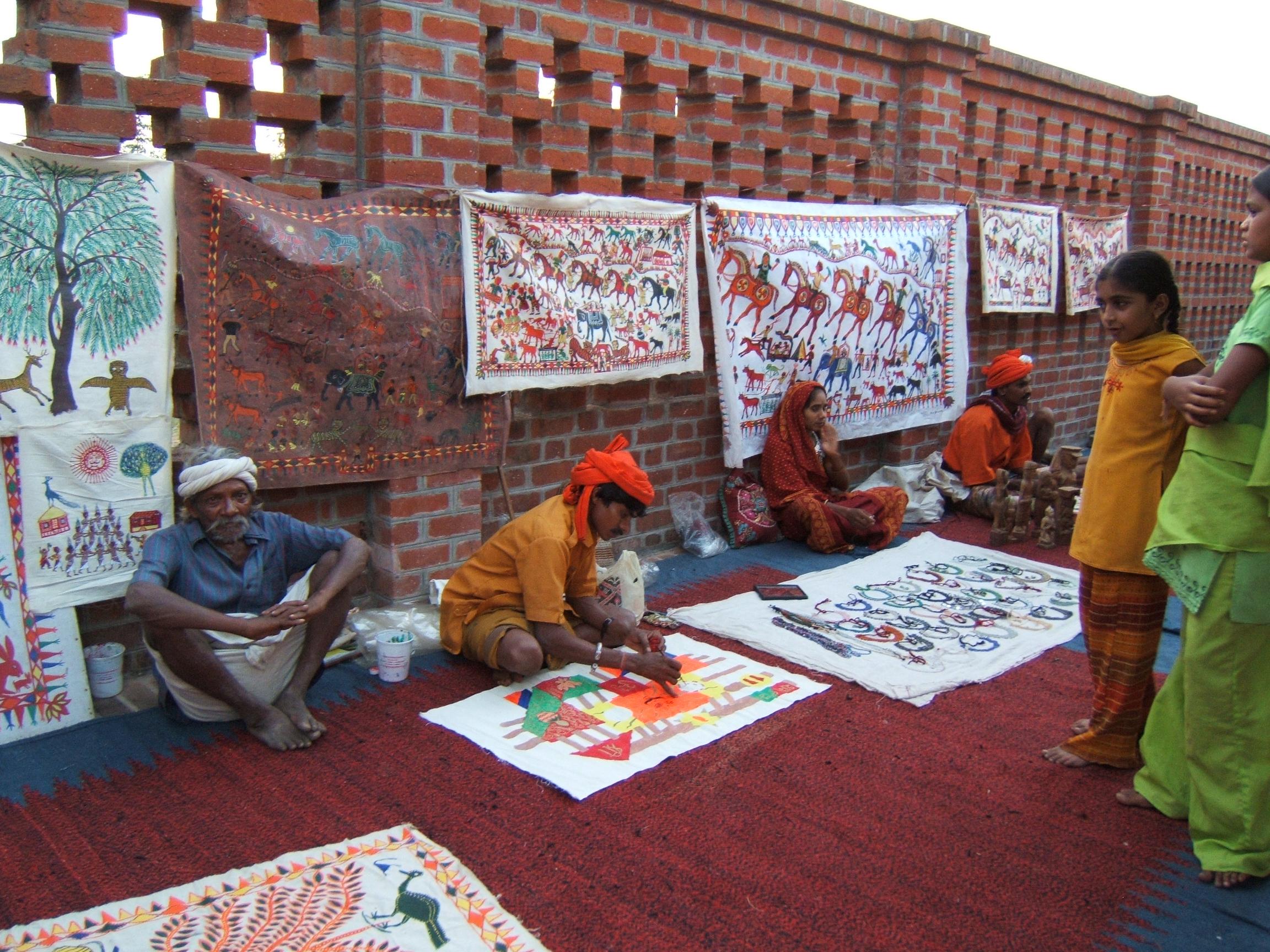 The Adivasi Academy has always endeavoured to study, revitalise and promote traditional Adivasi arts. We began by forming artist collectives in the Chhotaudepur region that has a rich tradition of pithoro painting, wooden sculpture, pottery, canework and handwoven textile. The Academy documented as well as held workshops and exhibitions for bringing visibility to the artists. As the Vaacha Museum began to be developed, Bhasha/Adivasi Academy began to come into contact with artists from other Adivasi areas.
In February and March 2014, Bhasha collaborated with the Lalit Kala Akademi, New Delhi and invited 72 artists from Gujarat, Madhya Pradesh, Jharkhand and Odisha, for interactive workshops at the Adivasi Academy. Encouraged by the response, Bhasha collaborated with the Oil and Natural Gas Corporation, Vadodara and held 3 national workshops during 2017 and 2018, inviting Adivasi artists practising both, traditional as well as contemporary art to create institutional spaces for Adivasi artists to come together and to create ways forward for the survival and sustenance of Adivasi arts. We had artists from Gujarat, Jharkhand, Chattisgarh, Maharashtra, Rajasthan, Bihar, Tamil Nadu, West Bengal and Karnataka.
The Vaacha museum is enriched with their artworks that includes Rogan art (Kutch), bamboo craft (south Gujarat), Chitrakathi painting and leather puppetry (Maharashtra), terracotta (Rajasthan), Kurumba painting (Tamil Nadu), Sohrai, Godna and Paitkar paintings (Jharkhand), metal craft and carving (Chhatisgarh), Saora painting (Odisha), sculpture and painting (Shantiniketan), Sabai and Madur grass weaving, pattachitra, clay dolls (West Bengal), Ravanhattha (Rajasthan), Jute weaving, Gondi painting, wooden sculpture, relief work (Madhya Pradesh), Madhubani Painting (Bihar) and Hase Chittara Painting (Karnataka).
Post the final workshop, The Faculty of Fine Arts of The Maharaja Sayajirao University of Baroda collaborated with Bhasha for the two-day Exhibition which received a huge response from Barodians. Teachers and students from the faculty, Navarachna school students, doctors, artists and the media thronged the two-day event and had discussions and demonstrations with the artists. The artists had wonderful sales and left Baroda with a request to be invited again!
The Adivasi Academy at Tejgadh is a space open to artists to come. Any art or craft organization or independent artist wishing to collaborate for revitalizing and promoting traditional and contemporary art practices of adivasi/folk artists is welcome to contact Bhasha!
Digitising Adivasi Arts
Museums have through the years been seen as institutions involved in the research, conservation and dissemination of information. India has twenty-five Tribal Research and Training Institutes, several of which hourse Ethnographic Museums with a combined collection of a large range of artefacts as paintings, ornaments , costumes, hunting and agricultural implements, pottery, toys and religious objects. Each museum has collected artefacts from its own area of activity. Viewed collectively, these artefacts present a unique picture of the diversity and cultural richness of Tribal India.
In order to connect the audiences with the tribal contexts through the use of digital technology and multimedia, Bhasha has prepared a National Consortium of Tribal Arts and Culture. The Consortium brings together films, photographs, songs and stories reflecting the richness of tribal life and the contexts of use of over 700 tribal artefacts featuring in this dynamic display.
Along with the Consortium, Bhasha has published Tribal Arts in India: The National Inventory of Tribal Museums, a systematic documentation of more than nine hundred objects presently in possession of the various museums housed by the Tribal Research and Training Institutes.
The materials covered by the Consortium and Inventory represent only a part of the holdings in the Tribal Research Institutes' museums.
To avail copies of the Consortium VCD and the Inventory, please write to: bhasharesearch@gmail.com
Music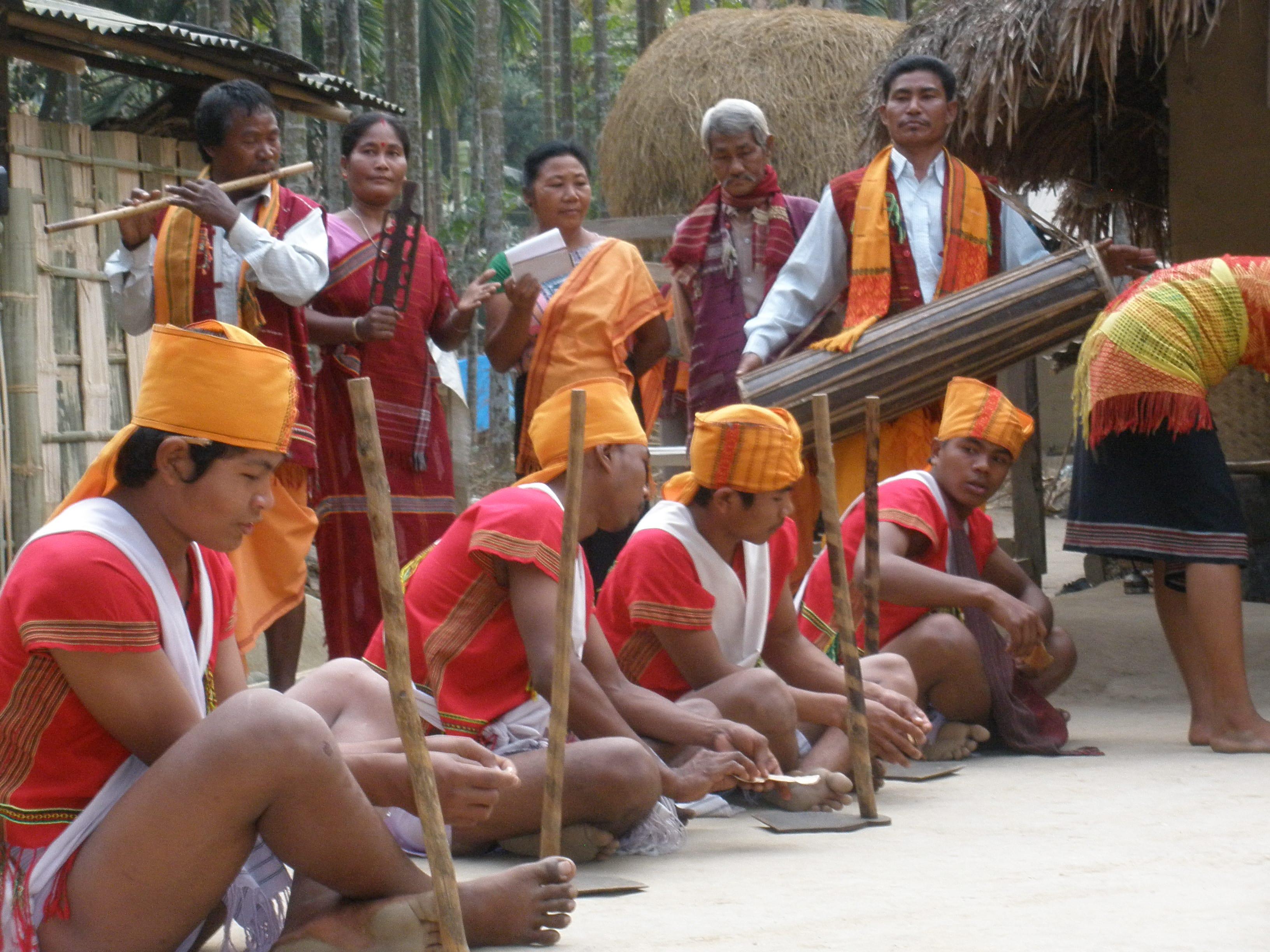 India has a rich diversity of music traditions among its tribal and nomadic communities. These traditions are intricately connected with their social practices and belief systems. As a 'Centre of Excellence' recognized by the Ministry of Tribal Affairs, Bhasha Centre has undertaken to create a 'Digital Corpus of Tribal Music for Conservation and Dissemination'. The corpus includes :
Adivasi Music of Gujarat and Chhatisgarh, available as CDs
Toor Music CDs containing the Adivasi music of Gujarat and bordering areas of Madhya Pradesh, Maharashtra and Rajasthan
Pratisaad, a music DVD containing adivasi songs rendered by ethnomusicologist and singer Prachi Dublay with adivasi artists
Bhartiya Adim Sangeet, a DVD of adivasi songs rendered by adivasi artists from various areas of Gujarat
Similarly, the music of Adivasi communities from Himachal Pradesh, Kerala, Uttarakhand, Jharkhand and Assam is available in the Vaacha's archives
An important addition to the Consortium and the Music collection are the publications, Adivasi Adim Chitrakala: Rathwa Samajno Babo Pithoro and Chhotaudepur Jillani Hunnarkala, both written by Naran Rathwa and Vikesh Rathwa. This is for the first time that two members of the Rathwa community have come forward to present the history, beliefs and ritual of the pithoro painting and other arts practiced in the Chhotaudepur district.
To avail of any of the music DVDs or books, please write to bhasharesearch@gmail.com
Visual Archives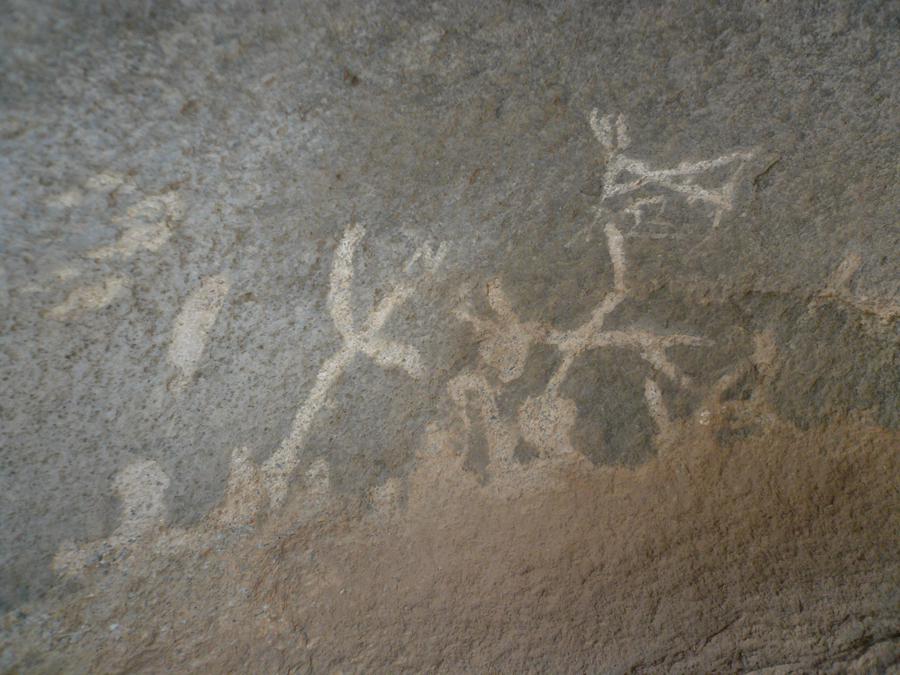 Museum institutions all over the western world have conserved the visual history of tribal communities in the form of photographs collected by colonial administrators and anthropologists throughout the twentieth century. The University of Cambridge, School of Oriental and African Studies, The City Museum of Leipzig, The Berlin Ethnographic Museums are some of the institutes with a sizable holding of the tribal visual history. The Adivasi Academy has in its collection nearly 40,000 photographs—well documented—of tribals and by tribals.
The Academy has undertaken to bring all these collections together in the digital medium and to make the collection an open-source collection so that further deposits by tribals can be received in it and conserved properly. This would be one clearly visible and a significant way of 'empowering' the tribal communities.
The website can be visited Bhasha archival